Mermaid and seashell silicone molds
Sale price
1.995 Ft
Regular price
3.990 Ft
Tax included.
Delivered in 1-3 working days in Hungary with home delivery, Foxpost and Packeta! Pay online or pay cash on delivery.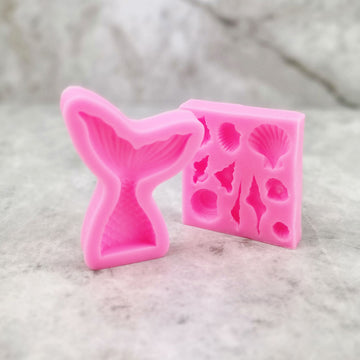 Mermaid and seashell silicone molds
Sale price
1.995 Ft
Regular price
3.990 Ft
Product description
User's manual
Product reviews
Beachside decoration for creative kitchen fairies
Would you like to make playful smoothie bowls, such as the ones you've seen on Instagram? Make edible seashells and mermaid tails using our silicone molds, and turn any dessert into a seaside dream.
How to use the silicone molds?
You can fill them with white chocolate, yogurt or smoothie as well, the main thing is to let them rest for 1 hour in the freezer, so that the shapes come out nicely. With the help of our colorful superfood powders you can make the edible mermaid tail and seashells even more spectacular!
Product information
Material: Food grade silicone
Size: The seashell mold is 7,5 x 7 cm, the shells are 1-3 cm long. The mermaid tail is 8,2 cm x 2,9 cm.
Wash the molds with lukewarm water and dish soap before the first use.
Do not put it in the dishwasher, the oven or the microwave!
You can put it in the fridge and the freezer as well.