Recipes
FRANKENSTEIN BITES – NO-BAKE MATCHA
by yes_superfood Admin on Sep 29, 2022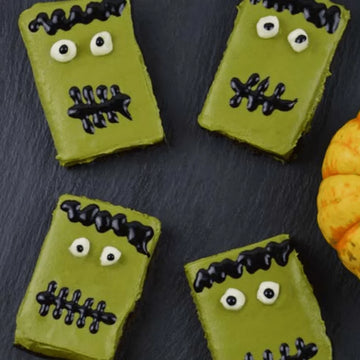 Ingredients for the base:
180 g Oreo cookies

50 g butter
Ingredients for the cream:
Black frosting for eyes and face:
Yes Superfood Activated Charcoal powder

powdered sugar

water
Method:
Grind the cookies with a food processor, and then knead it into a sticky dough with the butter. Line a 20 x 20 cm baking tray with parchment paper, and press the dough to the bottom. Let it rest in the fridge while you make the filling.

Mix the whipping-cream with an electric whisk until its fluffy.

In another bowl mix the mascarpone as well to get an airy, fluffy texture. Add in the vanilla extract, the powdered sugar, and set aside 1 tablespoon of it (this is for the eyes).

Add the Ceremonial Matcha powder to the mascarpone, and mix until you get an evenly green color.

Add the whipped cream tot he green mascarpone, and mix gently using a spatula. Pour the mixture over the base, and let it set in the fridge for min. 2-3 hours.

Before serving cut up the cheesecake into rectangular slices, and decorate them with mascarpone and black frosting.