Recipes
IMMUNE BOOSTING PUMPKIN SPICE LATTE
by yes_superfood Admin on Jul 22, 2022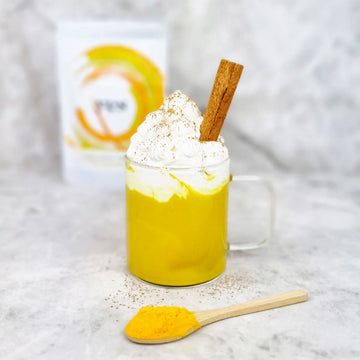 Ingredients for one cup:
gingerbread spice mix 

or: 4 tbsp cinnamon + 1 tbsp nutmeg + 1 tbsp ginger + ½ tbsp ground cloves

a few slices of pumpkin

1 tsp agave syrup

water

1 tsp coconut oil

pepper

2 dl plant-based milk

½ tsp Yes Superfood Curcumin superfood powder

one shot of espresso

vegan whipped cream
Method:
Mix the gingerbread spices in a small bowl/jar.

Cut up the pumpkin into 1,5 cm thick slices, and place them in a baking tray lined with a baking sheet.

Sprinkle the pumpkin slices with the spice mix, and bake them on 180°C for 30 minutes, or until they are soft and mushy.

Peel the pumpkins and puree them using a hand-held mixer.

Sweeten the pumpkin puree with agave syrup, add in the coconut oil and a pinch of black pepper. Add some water to itt o get a syrupy consistency. Mix it with the hand-held mixer again.

Heat up the plant-based milk, and add ½ tsp Curcumin superfood powder. (It's easier to mix it with a milk frother.) Add 2-3 tablespoons of the pumpkin puree, and mix until the consistency is even.

Serve the Pumpkin Spice latte in a tall glass. First pour in a shot of espresso, then the pumpkin spiced golden milk, then the vegan whipped cream!