Recipes
DRAGON FRUIT TAPIOCA PUDDING
by yes_superfood Admin on Jul 09, 2022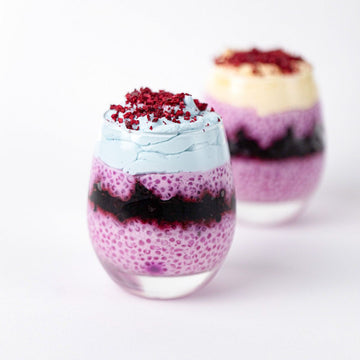 Ingredients for 2 portions:
100 g tapioca pearls

3,5 dl water

2,5 dl plant-based milk

75 g brown sugar or other sweetener

1 tsp vanilla extract

1 tbsp Yes Superfood Dragon Fruit superfood powder

1 cup blackberries/other berries

decoration (optional): yogurt colored with Blue Spirulina and Sea Buckthorn powder, freeze dried cherry sprinkles
Method:
Soak the tapioca pearls in 3,5 dl water for 15 minutes.

Pour the plant-based milk, the tapioca pearls and the soaking water into a small saucepan, and bring it to boil.

When it's already boiling, lower the temperature and stirr often, until you get a thick, pudding-like consistency (15-20 minutes).

Add the vanilla and the sweetener, and when it has cooled down a bit, you can add the Dragon Fruit powder as weel. (The Dragon Fruit powder may loose some of its vibrant colour, if you add it to very hot food.)

Puree the berries using a hand-held blender.

Layer the tapioca puddings and the berries in  two glasses.

Let the puddings rest in the fridge for min. 1 hour before serving.