Recipes
SPIDERWEB PUMPKIN MUFFIN
by yes_superfood Admin on Jul 29, 2022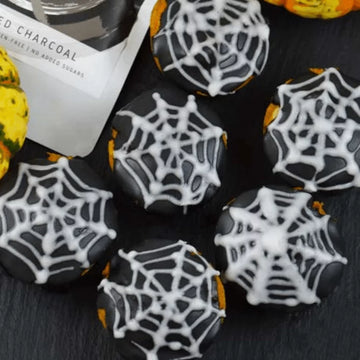 Ingredients for 12 muffins:
310 g flour

125 g sugar

3 tsp cinnamon

3 tsp baking powder

pinch of salt

425 g pumpkin (380 g puree)

115 g apple sauce (can be replaced with olive oil, coconut oil)

70 ml plant-based milk

1-2 tsp vanilla extract
Ingredients for the decoration:
25 dkg powdered sugar

4 tbsp water

1 ½ tsp Activated Charcoal superfood powder
Method:
Slice up the pumpkin and bake it on 200°C for at least 60 minutes, or until you can easily stab it with a fork. Let the pumpkin cool down a bit, then puree it with a hand-held mixer or a food processor.

Preheat the oven at 175°C and prepare the muffin tins.

In a big bowl mix together the flour, the sugar, the baking soda, the cinnamon and the salt. Add in the pumpkin puree, the apple sauce, the vanilla extract and the plant-based milk.

Fill up the muffin tins and bake the muffins for 20-25 minutes. You can check with a toothpick, whether they are ready or not.

When the muffins have cooled down, prepare the frosting. Mix together the water and the powdered sugar, and set aside 2 tbsp of frosting.

Color the rest using Yes Superfood's Activated Charcoal powder.

Decorate the muffins first with a layer of black frosting, then paint spider webs using the white frosting.