Recipes
BEACHSIDE SMOOTHIE BOWL
by yes_superfood Admin on Jun 12, 2022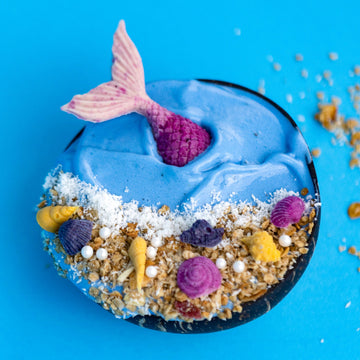 Ingredients for one bowl:
2-3 presliced, frozen bananas

60 ml plant-based milk

1 tsp Yes Superfood Blue Spirulina superfood powder
For the decoration:
granola for the beachside sand

shredded coconut for the waves

edible sugar pearls

½ bar of chocolate

Mermaid and seashell silicone molds

Yes Superfood powders for coloring
Method:
Melt the white chocolate over steam, and stirr until no lumps are left. Divide the melted chocolate to as many parts, as many colors you would like to use, and mix in ½ teaspoon of each colorful superfood powder.

Fill up the molds with chocolate and let them rest in the freezer for min. 1 hour.

If the seashells are already set, remove them from the mold, and place them on a plate in the fridge while you prepare the smoothie.

Mix the smoothie's ingredients in a blender, until you reach a smooth, icecreamy texture.

Serve the smoothie in your coconut bowl, and decorate it based on the photo!

First, sprinkle some granola on top of the smoothie, then create a line with the shredded coconut (for the sandy beach and the foaming waves).

Decorate the beach with seashells and edible pearls.

Then place the mermaid tail into the "sea", as if a mermaid has just sticket its tail out of the waves!