Recipes
COCONUT-MATCHA ENERGY BALLS
by yes_superfood Admin on May 29, 2022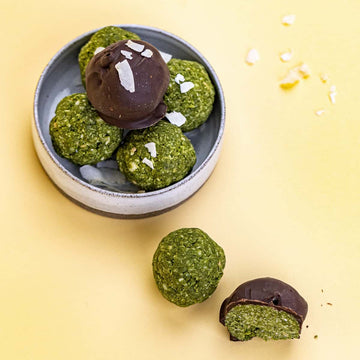 Coconut-Matcha Energy Balls
Ingredients for 12 balls:
1 cup shredded coconut

¼ cup coconut flour

2 tbsp melted coconut oil

2-3 tbsp maple syrup

melted dark chocolate (optional)
Method:
Put all the ingredients into a food processor (except for the chocolate), and mix unti leven and sticky.

Using your wet hands, shape ca. 3 cm diameter balls. You can dip them into melted chocolate for added flavor.

Let them rest in the fridge for 1-2 hours before serving, so they keep their shape.

You can keep the energy balls up to one week in the fridge.