Recipes
WIZARD'S TREAT – RAW VEGAN SEA BUCKTHOR
by yes_superfood Admin on Aug 19, 2022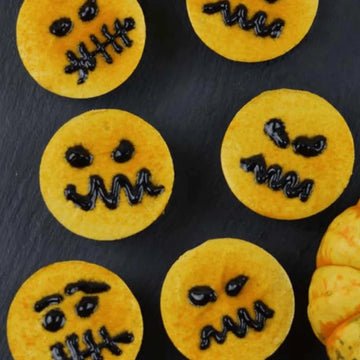 Ingredients for the base (12 mini cheesecakes):
200 g almonds

100 g soft dates (you can soak them in water overnight)

2 tbsp raw cocoa powder

2 tbsp melted coconut oil

pinch of salt
Ingredients for the filling:
200 g cashews

5 tbsp agave syrup

2 tbsp lemon juice

150 g coconut milk

4 tbsp melted coconut oil

1 tbsp vanilla extract

3 tbsp Yes Superfood Sea Buckthorn powder

2 tsp agaragar

5 tbsp water
Method:
Mix all the ingredients for the base using a food processor. Divide the dough into 12 muffin tins, and place it in the freezer until you prepare the filling.

Mix the filling's ingredients (except the water and the agaragar) in the food processor, until you get a creamy consistency.

Heat up the water and the agar agar in a saucepan, then pour itt o the mixture.

Pour the filling over the base and then sprinkle some Sea Buckthorn powder on top.

Let the mini cheesecakes rest in the fridge for min. 3 hours, then decprate the using black frosting.