Recipes
GALACTIC SUPERFOOD SMOOTHIE
by yes_superfood Admin on Jan 20, 2022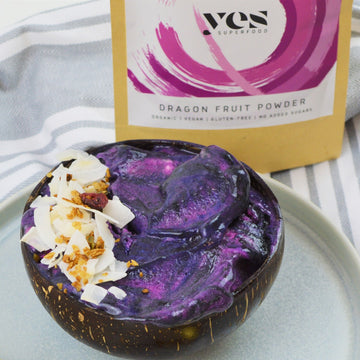 Galactic Superfood Smoothie
Ingredients for one bowl:
2-3 sliced and frozen bananas

2 tbsp plant-based yogurt / 60 ml plant-based milk

decoration: coconut chips, granola
Method:
Mix all the ingredients (except the superfood powders) in a blender, until you get a smooth, creamy consistency.

Add the Activated Charcoal to the blender, and mix until you get a uniform, black color.

Add the Blue Spirulina and the Dragon Fruit to the smoothie, and stir them in slowly, using a spatula.

Serve the smoothie in your coconut bowl, and decorate it with coconut chips and granola.