Recipes
RAW VEGAN MATCHA CAKE
by yes_superfood Admin on Apr 08, 2022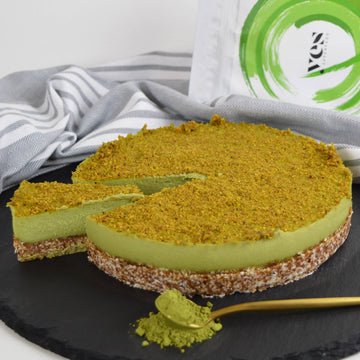 Raw Vegan Matcha Cake
Ingredients:
1 cup almonds

1 cup shredded coconut

6 dates (soaked in water for min. 10 minutes)

¾ cup coconut cream

½ cup maple syrup

1 ½ cup cashews (soaked in water for min. 2 hours)

½ cup coconut oil
Method:
In a food processor mix together the almonds and the shredded coconut, until you get a fine, crumbly consistency.

Add in the dates, and mix it again. (In case the mixture doesn't get sticky, add in 1-2 tsp water.)

Press the mixture into a 22 cm diameter baking tray, and put it in the fridge, until you prepare the cream.

Mix the coconut cream, the maple syrup, the cashews and the coconut oil in a food processor/blender, until you get a silky, smooth consistency. Then add in the Ceremonial Matcha superfood powder too.

Pour the filling over the base, and let it sit in the freezer for a minimum of 2 hours.

Take the cake out of the freezer 15-20 minutes before serving.