Recipes
PINEAPPLE TAPIOCA PUDDING
by yes_superfood Admin on Mar 02, 2022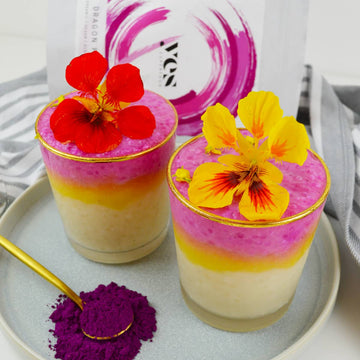 Pineapple Tapioca Pudding
Ingredients for 2 portions:
100 g tapioca pearls

3,5 dl water

2,5 dl plant-based milk

75 g brown sugar or sweetener of choice

1 tsp vanilla extract

1 cup pineapple (canned pineapple is good too)
Method:
Soak the tapioca pearls for 15 minutes in water.

In a small saucepan combine the plant-based milk and the tapioca pearls (without draining them), and bring them to a boil.

Once it's boiling, lower the temperature and stir occasionally, until you get a thick, pudding-like texture. (15-20 minutes)

Add in the vanilla and the sweetener, and pour part of the pudding into jars.

Puree the pineapple in a blender, and pour the mixture over the pudding.

Mix the Dragon Fruit superfood powder with the leftover tapioca pudding, and then layer it on top too.

Place the puddings in the fridge for at least 1 hour before serving.