Recipes
BUTTERFLY PEA OATMEAL
by yes_superfood Admin on May 05, 2022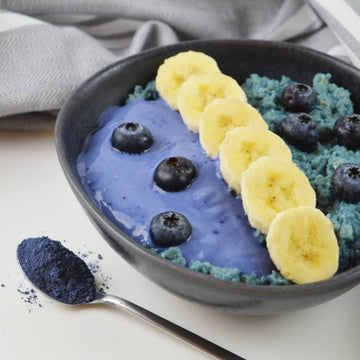 Butterfly Pea Oatmeal
Ingredients for 2 people:
For the oatmeal:
2 cups vanilla soy milk

1 ½ cups fine oats

1 tsp vanilla extract

2 tbsp maple syrup
For the yogurt topping:
4 tbsp plant-based yogurt
Method:
Mix the oatmeal's ingredients in a small saucepan, cook it on medium heat and mix it occasionally. Cook until you get a thick consistency (ca. 5-10 minutes).

Mix the yogurt topping's ingredients in a small bowl

Serve the oatmeal in a bowl and top it off with yogurt and fruits.