Recipes
HEALTHY CHIA COOKIES
by yes_superfood Admin on May 16, 2022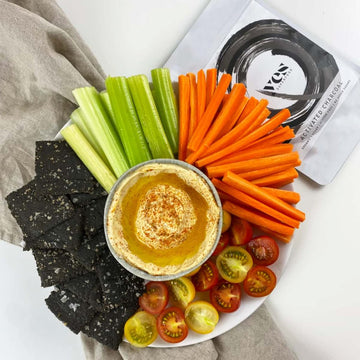 Healthy Chia Cookies
Ingredients:
305 g almond flour

75 g chia seeds

135 g chopped celery

55 g water

15 g olive oil

20 g miso paste

sea salt
Method:
In a big bowl mix together the almond flour, the chia seeds and the Activated Charcoal superfood powder.

Mix the celery, the water, the olive oil and the miso paste in a blender.

Combine the dry and wet ingredients and mix. Let the mixture sit for 10-15 minutes, so it rolls out easily.

Take half of the dough and put it in between two sheets of parchment paper. Roll it 3-4 mm thick.

Sprinkle some sea salt on top, and cut the dough into 5 x 5 cm squares using a wet knife.

Preheat the oven to 180°C.

Bake the cookies for 25-30 minutes on the middle rack of the oven. Let them cool down in the baking tray, and break them along the precut lines.

You can keep them up to 2-3 weeks in an airtight container.