Recipes
VEGAN CINNAMON ROLLS WITH PINK GLAZE
by yes_superfood Admin on May 20, 2022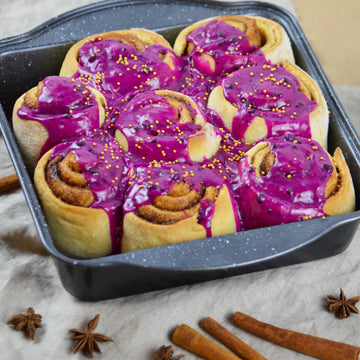 Vegan Cinnamon Rolls with Pink Glaze
Ingredients for 8 rolls:
For the dough:
250 ml plant-based milk

75 g vegan butter

25 g fresh yeast

30 g sugar

pinch of salt

500 g flour
For the filling:
3 tbsp vegan butter

50 g sugar

1 tsp vanilla extract

1 tbsp cinnamon
For the pink glaze:
100 g powdered sugar

1 tbsp plant-based milk
Method:
Heat up the plant-based milk and the vegan butter for the dough in a bowl, and let it cool back to ca. 40°C. (Hot milk kills the yeast!)

Sprinkle the yeast into the milk, and let it rise for 10 minutes. Then add the sugar and salt.

Mix in the flour gradually, until you get a thick, sticky dough. Sprinkle some flour on your countertop, and roll the dough into a ball.

Rinse the bowl with water, put some oil into it, and put the dough in it. Cover the bowl with kitchen film, and let the dough rise for 1 hour in a warm place.

Roll out the dough in a rectangular shape, ca. 5 mm thick. Put the melted butter on the dough, then sprinkle it with sugar and cinnamon.

Roll up the dough and cut it into 4-5 cm tall rolls. Place them into a buttered 20 x 20 cm baking tray.

Let the rolls rise for 10 minutes in the baking tray, until you heat up the oven to 170°C.

Bake the rolls for 20-25 minutes.

Mix the ingredients of the pink glaze and pour it over the cooled rolls.