Recipes
VEGAN PROTEIN ZUCCHINI BROWNIE
by yes_superfood Admin on Apr 19, 2022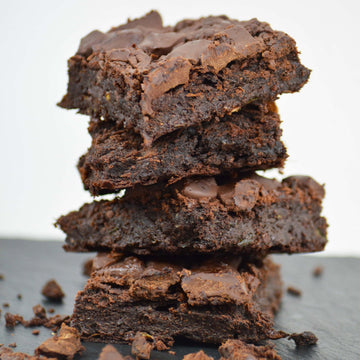 Vegan Protein Zucchini Brownie
Ingredients for a 20 x 20 cm baking tray:
140 g cashew butter/peanut butter

1 pureed banana

half a zucchini, grated

1 flax seed egg (1 tbsp flax seed meal + 3 tbsp of hot water)

70 g coconut flower sugar

60 g cocoa powder

1 serving Yes Superfood Chocolate Cookie Vegan Superfood Protein (33 g)

½ tsp baking powder

½ tsp salt

100 ml plant-based milk

100 g sugar free vegan dark chocolate
Method:
Prepare your flax egg, using one tbsp of flaxseed meal and 3 tbsp of hot water. Let it thicken for 5 minutes.

Mix together the nut butter, the banana, the flax egg and the coconut flower sugar. Add the cacao powder, the protein powder, the plant-based milk, the baking soda and the salt.

Place the grated zucchini in a clean kitchen towel, and squeeze out the juice over the sink. Add the zucchini and the cut up chocolate to the batter, and mix until uniform.

Pour the batter into the baking tray and smooth out the top.

Preheat the oven to 175°C, and bake the brownies for 30-35 minutes.

Let the brownies cool down before serving, and cut them up into squares.