Recipes
Purple Coconut Panna Cotta
by Lili Nyári on Feb 05, 2023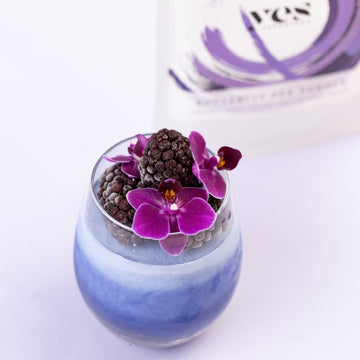 Ingredients for 6 serving:
1 Tablespoon unflavored gelatin powder
1 Tablespoon water
2 ¼ cup canned full-fat unsweetened coconut milk
¾ cup canned unsweetened coconut cream
¼ cup granulated sugar
coloring: 2-3 Tablespoons of Yes Superfood Butterfly Pea Powder (depending on what hue you would like to achieve)
Method:
In a small bowl, combine gelatin powder with water. Stir and let sit for 5 minutes until the moisture has been fully absorbed.
In a medium saucepan, combine coconut milk, coconut cream, and sugar. Set over medium heat and bring to a simmer. Continue to heat until sugar has dissolved. Remove from heat and allow to cool 5-8 minutes.
Add in gelatin. Stir until gelatin has completely dissolved.
Divide the mixture into as many parts, as many layers you want to create. Color the mixture by mixing in the Butterfly Pea Powder gradually.
Pour the first and darkest layer into the glasses and let it cool in the fridge.
After the first layer has chilled, keep repeating this process and make as many layers, as you would like.
Let the panna cottas rest in the fridge for a total of 6 hours before serving.